Американский солдат, который перешел на сторону Северной Кореи… и теперь живет в Японии, продавая крекеры
By Graeme Wood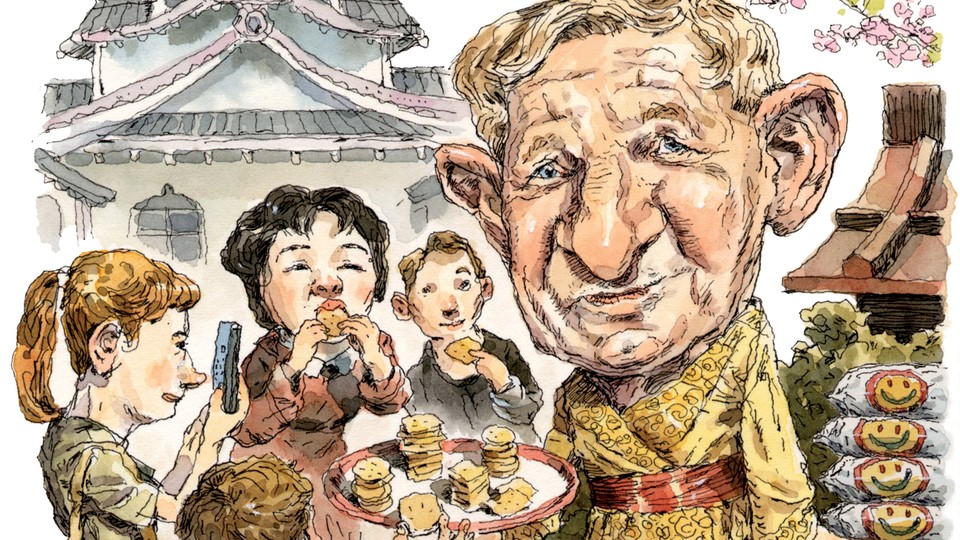 we all do stupid things when we're drunk, but among bad decisions, this one deserves special distinction: on the night of January 4, 1965, U.S. Army Sergeant Charles Robert Jenkins pounded 10 beers, deserted his infantry company at the edge of the Korean Demilitarized Zone, walked alone across a minefield, and defected to North Korea. He was thrown into a chilly, spartan house (he tried, unsuccessfully, to leave) and forced to study the works of the North Korean dictator Kim Il Sung for 11 hours every day. By 1972, he could recite Kim's core principles by heart in Korean. That year, he was forcibly naturalized as a North Korean citizen. He went on to work as an English teacher, a translator, and an actor, under 24-hour surveillance and conditions of near-starvation.
Мы все делаем глупости, когда пьяны, но среди плохих решений это заслуживает особого внимания: в ночь на 4 января 1965 года сержант армии США Чарльз Роберт Дженкинс выпил 10 бутылок пива, дезертировал из своей пехотной роты на краю корейской демилитаризованной зоны, прошел в одиночку через минное поле и дезертировал в Северную Корею. Его бросили в холодный, спартанский дом (он безуспешно пытался уйти) и заставили изучать труды северокорейского диктатора Ким Ир Сена по 11 часов каждый день. К 1972 году он мог наизусть пересказать основные принципы Кима на корейском языке. В том же году он был насильно натурализован как гражданин Северной Кореи. В дальнейшем он работал учителем английского языка, переводчиком и актером под круглосуточным наблюдением и в условиях почти голодного существования.
All told, Jenkins would spend nearly 40 years in North Korea, a state that he says bred foreigners like animals, for the purpose of recruiting their ethnically ambiguous offspring for espionage. He himself had two daughters by Hitomi Soga, a Japanese woman whom North Korean agents kidnapped in 1978, apparently to enslave her as a teacher of Japanese language and customs for North Korean spies. Soga, who is 19 years Jenkins's junior, was freed in 2002 when Kim Jong Il attempted détente with Japan. Japanese Prime Minister Junichiro Koizumi personally ensured that Jenkins and their daughters, Mika and Brinda, now 30 and 28, could join her. After Jenkins finally left North Korea in 2004, at age 64, the U.S. Army threw him in the stockade for 24 days and discharged him dishonorably. But since then he has lived a quiet life on Sado, his wife's home island, a speck in the Sea of Japan that has served historically as a Japanese Elba, a secluded site for the exile of political undesirables. When I met Jenkins, his top priority was to sell me senbei, light-brown honey-flavored crackers. He is employed by a historical museum, where he wears a yellow kimono-like jacket called a happi and hawks cracker boxes to tourists in the gift shop. "You must be Mr. Jenkins," I said to him, and he responded affirmatively in a hillbilly drawl, a legacy of his dirt-poor childhood in rural North Carolina. Like the Japanese tourists who flock to see him, I found his diminutive, jug-eared appearance endearing, and bought a box of crackers immediately. A minute later, he told me he'd sent a box of senbei to his military lawyer, a Texan. "He told me it was the awfulest cookie he ever tasted," Jenkins said.
В общей сложности Дженкинс провел почти 40 лет в Северной Корее, государстве, которое, по его словам, разводит иностранцев, как животных, с целью вербовки их этнически неоднозначного потомства для шпионажа. У него самого есть две дочери от Хитоми Сога, японки, которую северокорейские агенты похитили в 1978 году, очевидно, чтобы обратить ее в рабство в качестве преподавателя японского языка и обычаев для северокорейских шпионов. Сога, которая младше Дженкинса на 19 лет, была освобождена в 2002 году, когда Ким Чен Ир предпринял попытку разрядки отношений с Японией. Премьер-министр Японии Дзюнъитиро Коидзуми лично позаботился о том, чтобы Дженкинс и их дочери, Мика и Бринда, которым сейчас 30 и 28 лет, смогли присоединиться к ней. После того как Дженкинс наконец покинул Северную Корею в 2004 году, в возрасте 64 лет, армия США бросила его на 24 дня в карцер и уволила с позором. Но с тех пор он живет тихой жизнью на Садо, родном острове своей жены, – пятнышке в Японском море, которое исторически служило японской Эльбой, уединенным местом для изгнания политических неугодных. Когда я встретил Дженкинса, его главной задачей было продать мне сенбей, светло-коричневые крекеры со вкусом меда. Он работает в историческом музее, где носит желтую куртку, похожую на кимоно, называемую хаппи, и продает крекеры туристам в сувенирном магазине. "Вы, должно быть, мистер Дженкинс", – сказал я ему, и он ответил утвердительно на деревенском наречии – наследие его грязного бедного детства в сельской местности Северной Каролины. Как и японские туристы, которые стекаются к нему, я нашел его миниатюрную, кувшинообразную внешность очаровательной и сразу же купил коробку крекеров. Через минуту он сказал мне, что отправил коробку сенбея своему военному адвокату, техасцу. "Он сказал мне, что это самое ужасное печенье, которое он когда-либо пробовал", – говорит Дженкинс.
The Japanese consider Jenkins and Soga's story a great modern romance: two people find love under Orwellian conditions, and through mutual devotion win their freedom. When visitors stroll into the shop, they whisper to each other ("Jenkins-san!") and stare at Jenkins until he beckons them to pose for a picture. "Photo" is one of the few words he knows in Japanese—he speaks Korean at home. That Tuesday, his day off, Jenkins drove me around the island, which, like much of rural Japan, is beautifully manicured and eerily vacant, its tidy alleys prowled by well-fed cats. He and Soga live with their daughters near the very alley where, more than three decades ago, Soga was snatched by North Korean agents. North Korea is never far from his mind: if you mention juche—the infamous pillar of North Korean ideology—in his presence, his eyes instantly glaze over as he lapses into a robotic Korean recitation of its principles, memorized syllable by compulsory syllable in the 1960s and '70s. Come lunchtime, we stopped at a local restaurant for pizza (easily the worst I have ever had, but after years of weevil-infested rice rations, Jenkins savors any taste of America). As we ate, I posed various questions that a Japanese journalist had told me everyone in Tokyo longed to ask: Was North Korea's new ruler, Kim Jong Un—the third son of the late bouffant strongman Kim Jong Il—plotting war on Japan? Were there more abductees? Did Jenkins have more secrets?
Японцы считают историю Дженкинса и Соги великой современной романтикой: два человека находят любовь в оруэлловских условиях и благодаря взаимной преданности обретают свободу. Когда посетители заходят в магазин, они шепчутся друг с другом ("Дженкинс-сан!") и смотрят на Дженкинса, пока он не предложит им сфотографироваться. "Фото" – одно из немногих слов, которые он знает по-японски, дома он говорит по-корейски. Во вторник, в свой выходной, Дженкинс возил меня по острову, который, как и большая часть сельской Японии, прекрасно ухожен и жутко пуст, а по его аккуратным аллеям бродят упитанные кошки. Он и Сога живут со своими дочерьми рядом с той самой аллеей, где более трех десятилетий назад Сога был схвачен северокорейскими агентами. Северная Корея не выходит у него из головы: если в его присутствии упомянуть чучхе – печально известный столп северокорейской идеологии, его глаза мгновенно стекленеют, и он переходит на роботизированное корейское изложение ее принципов, заученных наизусть слог за слогом в 1960-х и 70-х годах. Во время обеда мы зашли в местный ресторанчик, чтобы отведать пиццу (легко сказать, худшую из всех, что я когда-либо ел, но после долгих лет рисовых пайков, кишащих долгоносиками, Дженкинс ценит любой вкус Америки). Пока мы ели, я задавал различные вопросы, которые, по словам японского журналиста, все в Токио хотели бы задать: замышляет ли новый правитель Северной Кореи Ким Чен Ын – третий сын покойного громогласного силача Ким Чен Ира – войну против Японии? Были ли еще похищенные? Были ли у Дженкинса новые секреты?
About Kim Jong Un, Jenkins could offer little insight. No one had ever heard of him before a few years ago, Jenkins said, and the speed of his ascent—he is thought to be just 29 or 30; no one knows for sure—makes Jenkins suspect that he is a puppet of the military leadership. When I asked how Jenkins could know anything about the inner workings of the North Korean military, he said that he had worked at the military university, and as a white man he'd been, oddly enough, highly trusted, because he was too conspicuous to have any hope of escaping the country. "We trust Jenkins more than we trust you!" he recalls one general saying to a military visitor. (Jenkins added that he had only once been in the same room with the Great Leader, Kim Il Sung, who snorted disapproval at Jenkins's Korean dress and ordered him and other Westerners to never again sully Korean clothing. Jenkins wore a suit and tie thereafter.) As for other abductees, Jenkins said he believed North Korea had kidnapped many foreigners, not all of them Japanese. When the French ambassador to Japan visited Jenkins on Sado to inquire about the possibility of French kidnapping victims, Jenkins described a French woman he'd met—one of several foreign nationals he says he encountered on movie sets in Pyongyang. Such foreigners had special license plates on their cars, Jenkins told me, and lacked any apparent motive for having migrated from rich, free countries to a poor, unfree one.
О Ким Чен Ыне Дженкинс не смог ничего сказать. По словам Дженкинса, еще несколько лет назад о нем никто не слышал, а скорость его восхождения – считается, что ему всего 29 или 30 лет; никто не знает точно – заставляет Дженкинса подозревать, что он является марионеткой военного руководства. Когда я спросил, откуда Дженкинс может знать что-либо о внутренней работе северокорейских вооруженных сил, он ответил, что работал в военном университете, и ему, как белому человеку, как ни странно, очень доверяли, потому что он был слишком заметен, чтобы надеяться на побег из страны. "Мы доверяем Дженкинсу больше, чем вам!" – вспоминает он слова одного генерала, сказанные военному посетителю. (Дженкинс добавил, что лишь однажды он был в одной комнате с Великим вождем Ким Ир Сеном, который неодобрительно фыркнул на корейскую одежду Дженкинса и приказал ему и другим западным людям никогда больше не запятнать корейскую одежду. После этого Дженкинс носил костюм и галстук). Что касается других похищенных, Дженкинс сказал, что, по его мнению, Северная Корея похитила много иностранцев, не все из которых были японцами. Когда посол Франции в Японии посетил Дженкинса на Садо, чтобы спросить о возможности французских жертв похищения, Дженкинс рассказал о встреченной им француженке – одной из нескольких иностранных граждан, с которыми, по его словам, он сталкивался на съемочных площадках в Пхеньяне. По словам Дженкинса, у таких иностранцев были специальные номерные знаки на машинах, и у них не было никаких видимых мотивов для миграции из богатой, свободной страны в бедную, несвободную.
Perhaps most intriguing, Jenkins said that he had heard reports of a work crew of captive white men, whom he believed to be American prisoners of war. For many years, rumors circulated that American POWs from the Korean War remained in North Korea, but Jenkins said he understood the captives to be younger POWs, from the Vietnam War, sent by the North Vietnamese to Pyongyang as thanks for North Korean assistance during the war. He said that he thought they had been imprisoned at a "model farm" called Chongsan-ri. What North Korea would want with a work crew of American men is not obvious—the country has plenty of indigenous labor. The greater goal of assembling a menagerie of captive Westerners, Jenkins thinks, was to breed them. They would be mated with each other, their children raised as loyal North Koreans who could serve as spies overseas. Jenkins is one of four American soldiers to defect to North Korea after the Korean War. The others—only one of whom, a burly Virginian named James Joseph Dresnok, is still alive and in North Korea—married a series of other foreigners, including a Lebanese woman and a Romanian woman. Some of the children from these unions attended Pyongyang's diplomatic academy. One defector, Larry Abshier, married a young Thai woman, Anocha Panjoy, who had been working in a Macau bathhouse when she disappeared in 1978; she almost certainly was abducted. After Abshier suffered a fatal heart attack in 1983, Panjoy married a German man who traveled internationally as a paid agent of North Korea, according to Jenkins. He alluded darkly to a larger set of such foreigners who work as North Korean agents abroad, presumably with their families and loved ones kept in Pyongyang as collateral. "If I had stayed in North Korea," Jenkins said, "my daughters would be in South Korea right now as spies."
Возможно, самым интригующим было то, что Дженкинс сказал, что он слышал сообщения о рабочей бригаде пленных белых мужчин, которые, по его мнению, были американскими военнопленными. В течение многих лет ходили слухи, что в Северной Корее остаются американские военнопленные времен Корейской войны, но Дженкинс сказал, что, по его мнению, пленные были более молодыми военнопленными времен Вьетнамской войны, которых северовьетнамцы отправили в Пхеньян в качестве благодарности за помощь Северной Кореи во время войны. Он сказал, что, по его мнению, они были заключены в тюрьму на "образцовой ферме" под названием Чонсан-ри. Зачем Северной Корее рабочая бригада из американских мужчин, не очевидно – в стране достаточно местной рабочей силы. Дженкинс считает, что более важной целью создания зверинца из пленных жителей Запада было их разведение. Они должны были спариваться друг с другом, а их дети вырастали бы лояльными северокорейцами, которые могли бы служить шпионами за границей. Дженкинс – один из четырех американских солдат, дезертировавших в Северную Корею после Корейской войны. Остальные – только один из них, грузный виргинец по имени Джеймс Джозеф Дрезнок, все еще жив и находится в Северной Корее – женились на ряде других иностранцев, включая ливанку и румынку. Некоторые из детей от этих браков учились в дипломатической академии Пхеньяна. Один из перебежчиков, Ларри Абшир, женился на молодой тайке Аноче Панджой, которая работала в бане в Макао, когда исчезла в 1978 году; почти наверняка ее похитили. После того как Абшир перенес смертельный сердечный приступ в 1983 году, Панджой вышла замуж за немца, который путешествовал по миру как платный агент Северной Кореи, по словам Дженкинса. Он мрачно намекнул на более широкий круг таких иностранцев, которые работают в качестве северокорейских агентов за рубежом, предположительно с их семьями и близкими, которых держат в Пхеньяне в качестве залога. "Если бы я остался в Северной Корее, – сказал Дженкинс, – мои дочери сейчас были бы в Южной Корее в качестве шпионов".

Much of this sounded far-fetched, I thought as we left the restaurant and drove back to Jenkins's house in his boxy Subaru. (When I later asked Andrei Lankov, a prominent Russian expert on East Asia who spent a year studying in North Korea, what he made of Jenkins's allegations, he was dryly skeptical. "So little is known about North Korea [that] people take seriously even the most outrageous stories," he replied.) I wanted to ask Jenkins: Wasn't the idea of a spy-breeding program so insanely evil, as well as impractical, that even North Korea wouldn't bother with it? Then again, I reminded myself, the story of Jenkins's wife's kidnapping was itself insanely evil and impractical—and true. My lunch companion knew North Korean evil more intimately than I ever would.
Which led me to a final question. Just as Americans viewed Jenkins as a defector from their side, so now do the North Koreans see him as a defector from theirs. Did he think they would ever come after him, either to reclaim a citizen or assassinate a traitor?
"I put it like this," Jenkins said. "Usually I don't go out at night."
How forced marriage saved a US defector in North Korea
By Rebecca Seales
BBC NewsPublished14 December 2017Share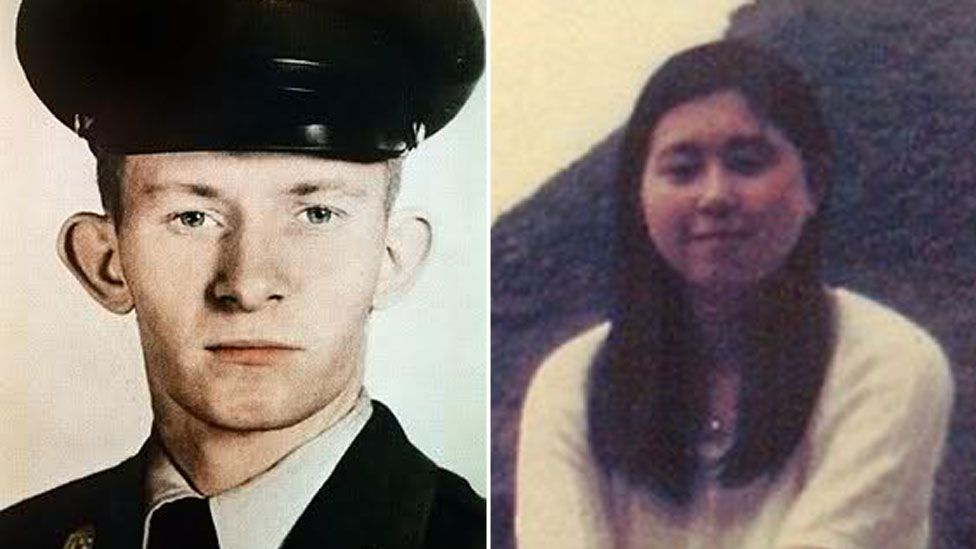 Every night before going to bed, US defector Charles Jenkins turned to Hitomi Soga, the woman North Korea had forced him to marry, and kissed her three times.
"Oyasumi" he said, using her native Japanese. "Goodnight", she replied in English, the language of his North Carolina childhood.
"We did this so we would never forget who we really were, and where we came from," Jenkins wrote in his memoir.
Theirs is a dark, strange, compelling tale – and finally, a love story.
Trapped in the hermit kingdom known for its famines and labour camps, the pair were united by one of its less noted hazards: prisoner matchmaking.

Jenkins, who died on Monday aged 77, staggered into North Korea on a bitter night in January 1965.
Aged 24, he was drunk and depressed. A US Army sergeant stationed on the South Korean side, he worried he would catch a stray bullet patrolling the border. Or worse, be sent away to his death in Vietnam.
Jenkins knew defecting was risky, but figured he would claim asylum at the Russian embassy and make it home in a prisoner swap. He would later write: "I did not understand that the country I was seeking temporary refuge in was literally a giant, demented prison; once someone goes there, they almost never get out."
Meet the four defectors
North Korea duly took him captive, and a four-decade ordeal began.
Jenkins was held in a Spartan single room with three other GIs who had deserted since 1962 – Pte James "Joe" Dresnok, a 6'5 giant of a man; Pte Larry Abshier – believed to be the first US soldier to defect to the North; and Cpl Jerry Parrish, just 19 when he went over, who said that if he ever went home to Kentucky his father-in-law would kill him.
The four were forced to study the teachings of then-leader Kim Il-sung for 10 hours a day, and beaten regularly by their captors. Desperate – and desperately bored – they tried to make their own fun "stealing government property, or going on daredevil hikes," as Jenkins wrote in his book "The Reluctant Communist".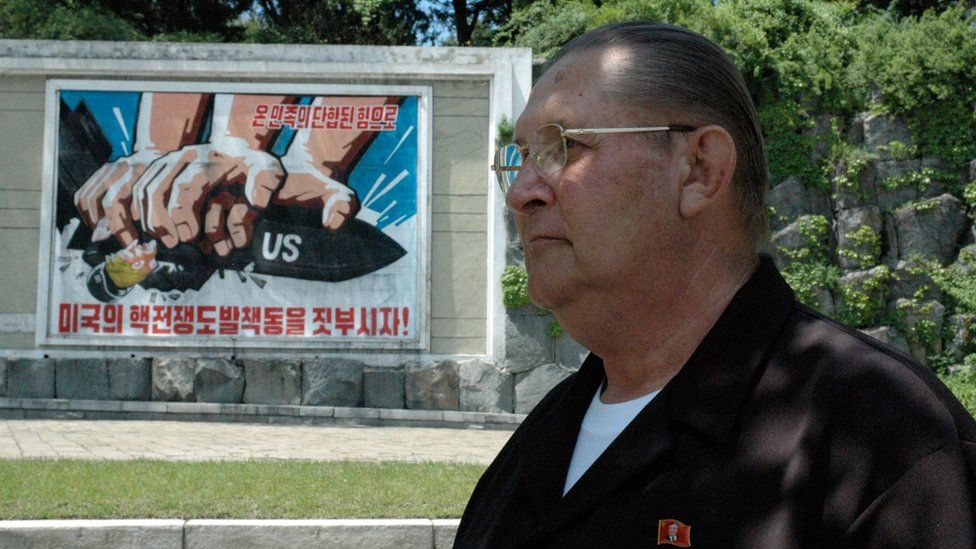 In 1972, the defectors were finally given separate homes and declared North Korean citizens – though they still endured constant surveillance, beatings and torture.
They taught English at a military school (which eventually fired Jenkins over his southern drawl), and were ordered to play evil Americans in a 20-part series of propaganda films, a move that made them instant celebrities.
Another set of orders was more surprising still. The four men were paired off with female prisoners of the regime, all foreigners, and forced to marry.
Why would North Korea bother? For Jenkins, the rationale was clear: he believed Pyongyang was running a spy breeding programme, and would train their Western-looking children to serve as agents abroad.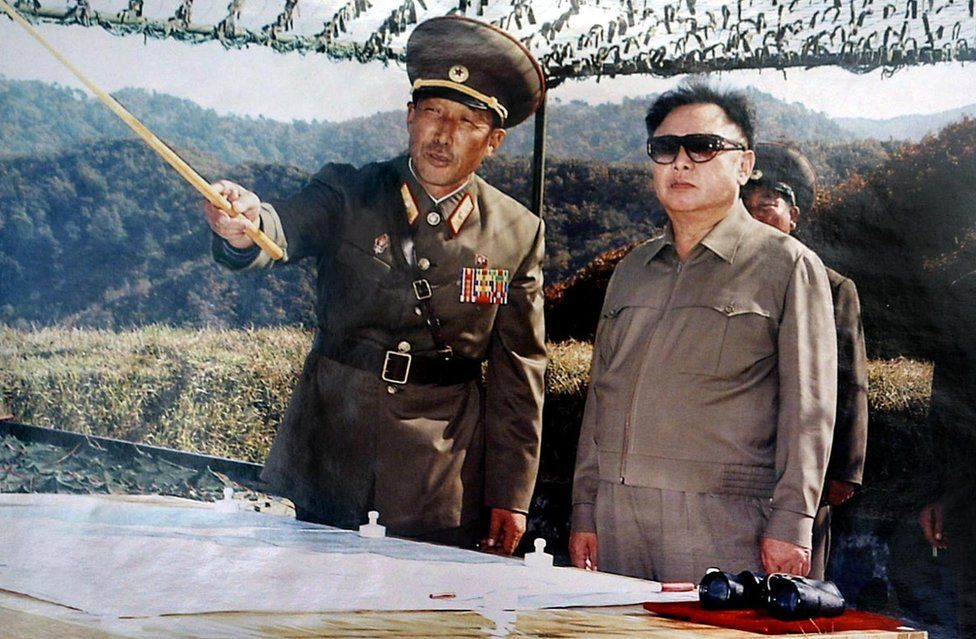 While the four US soldiers took their own paths to the communist kingdom, the same was not true of the women they married.
North Korea has only admitted to kidnapping Japanese citizens, but Jenkins claimed their wives, all from different countries, were abducted by its secret service.
'I wasn't letting her go'
Hitomi Soga, who would become Mrs Jenkins, was a 19-year-old nurse in 1978 when she was seized from her home island of Sado, off Japan's west coast. She had been kidnapped to serve as a teacher, training North Korean spies in Japanese language and behaviour. Ultimately, her nationality would buy her husband a future he could never have dreamed of.
When the pair wed in 1980, Jenkins had spent 15 years alone in Pyongyang's frosty embrace. He later told CBS: "I'll put it like this. I looked at her one time. I wasn't letting her go."
The newlyweds had nothing in common but a passionate hatred of North Korea – yet gradually, they fell in love.
Over 22 years, Jenkins and Ms Soga found a measure of happiness. They were grateful for each other. Two daughters followed; Mika, now in her mid 30s, and Brinda, two years younger.
The extraordinary development that would change their lives came in 2002. Kim Jong-il, then leader of North Korea, admitted that his country had kidnapped 13 Japanese citizens in the 1970s and 80s.
Kim said eight had died (a claim questioned by Japan), but agreed that five survivors should be sent back to Japan for a 10-day visit. They were two couples, and Hitomi Soga – minus her husband.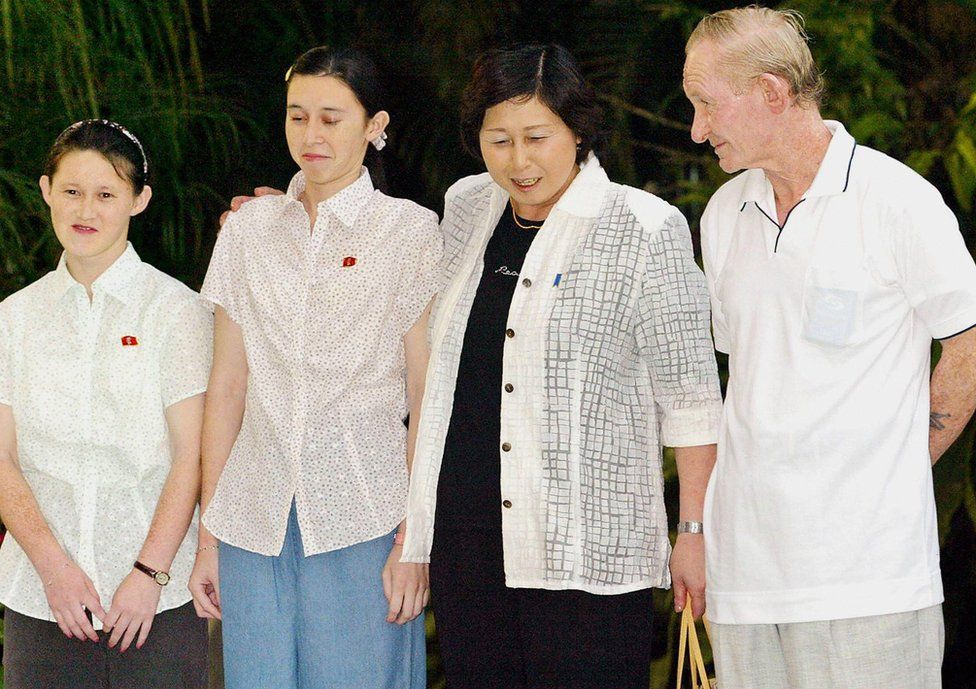 Japan embraced the men and women who had made it back with an outpouring of public sympathy. They never returned to North Korea.
Jenkins and his daughters were bereft. Desertion from the US army carries a maximum penalty of life imprisonment, and the old soldier knew that if he tried to join his wife in Japan the US military would arrest him.
Two years after Ms Soga was repatriated, he could stand it no longer. Jenkins and their children flew to Indonesia – which has no extradition treaty with the US – to meet her.
Pyongyang had only sanctioned a brief visit. But with the encouragement of Japan's then Prime Minister Junichiro Koizumi, the defector said he would risk a court martial and death in prison in order to reunite his family.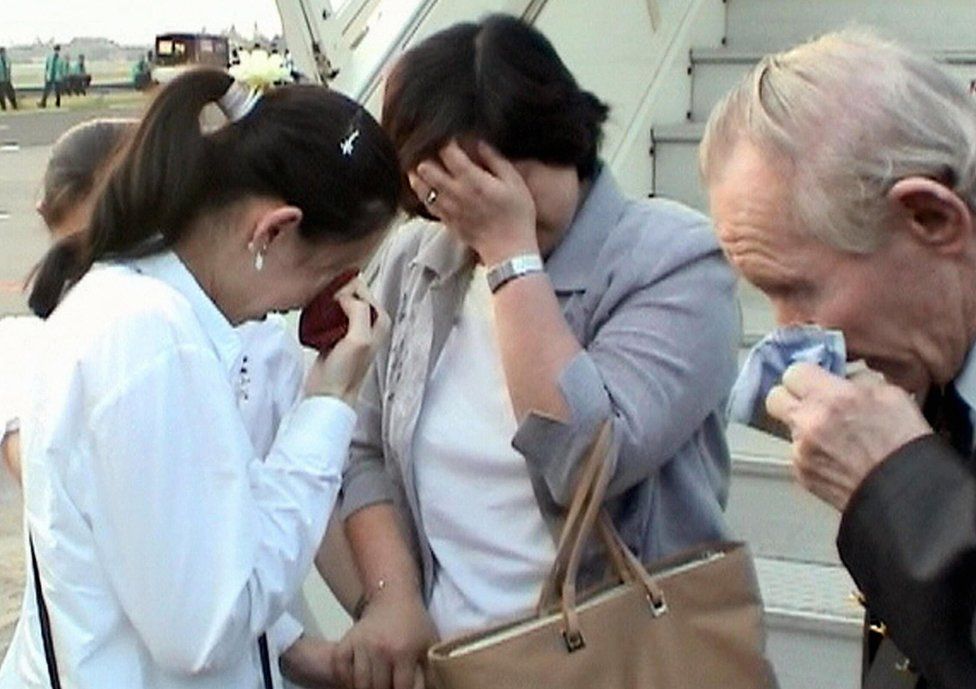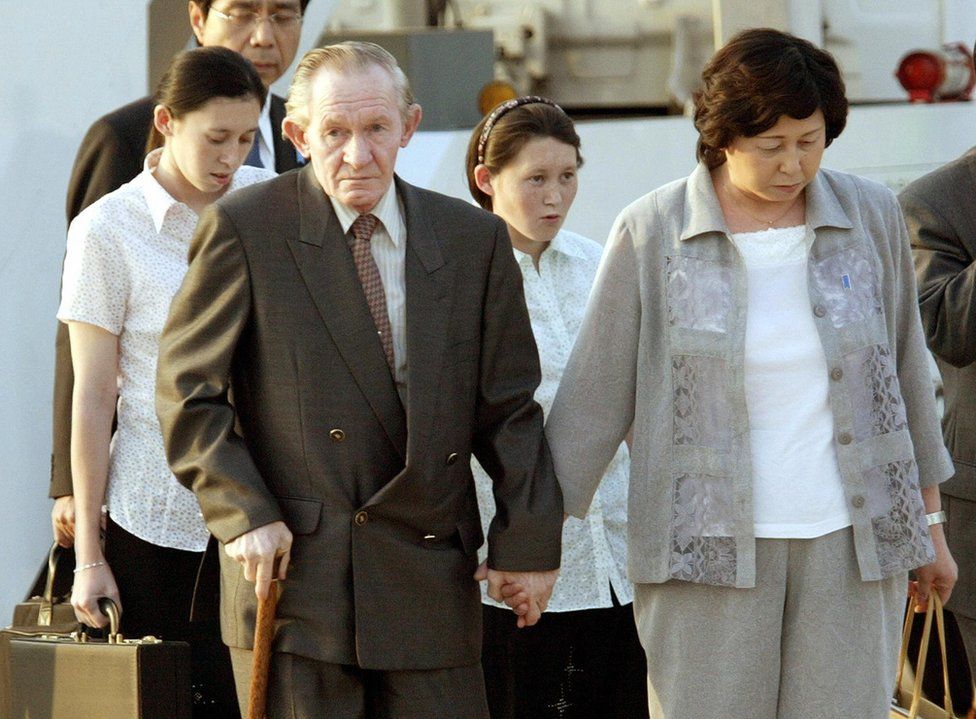 On 11 September 2004, the deserter left hospital in a mini-van bound for Camp Zama, just outside Tokyo. He looked a good decade older than his 64 years. Standing without his walking stick in a smart grey suit, he gave the US military police officer a long, crisp salute.
"Sir, I'm Sergeant Jenkins and I'm reporting," he said.
Jenkins served 25 days of a 30-day sentence after pleading guilty to desertion and aiding the enemy (for the time he spent teaching English). He was released early for good behaviour.
It is believed he shared his full knowledge of North Korea with the US in exchange for clemency.
Jenkins broke down after his release, sobbing: "I made a big mistake of my life, but getting my daughters out of there, that was one right thing I did."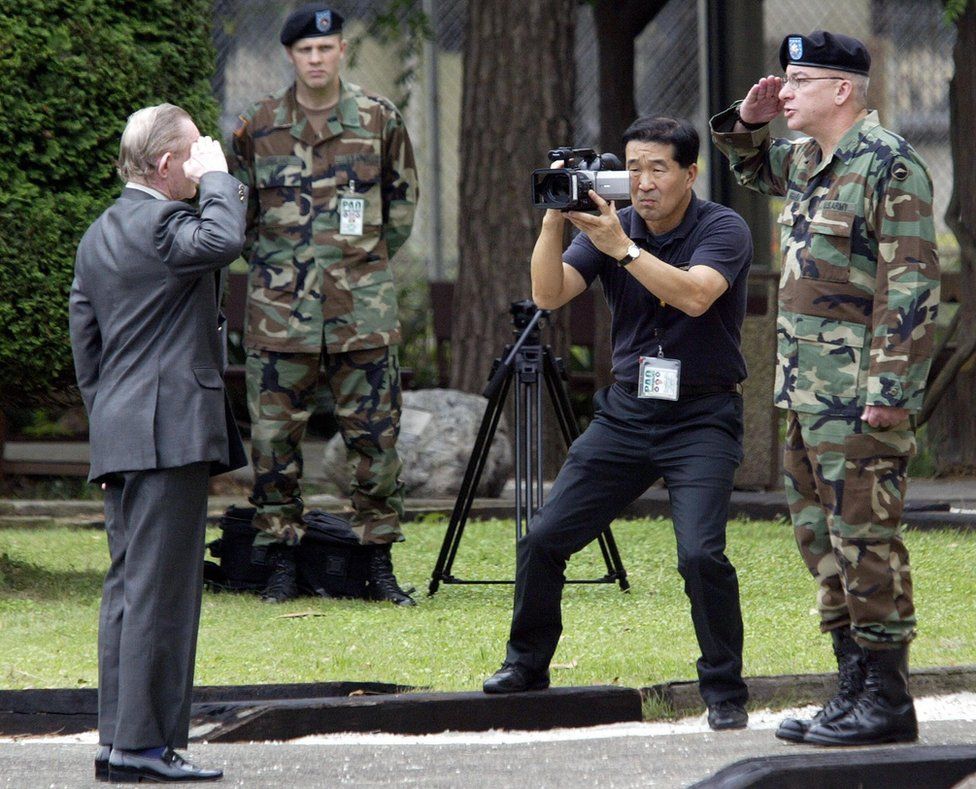 Until his death, he was convinced that North Korea wanted to weaponise his children, and that the elite languages college they attended had been grooming them for espionage.
Hitomi Soga moved back to Sado island in 2004, taking her husband and daughters with her. Jenkins got a job at a tourist park, selling senbei rice crackers and posing for photos. Ms Soga went to work in a local nursing home. Jenkins told their adult daughters never to pull over for Japanese traffic police, fearing they could be North Korean agents.
As a prisoner of Pyongyang, Sgt Charles Jenkins lost his appendix, one testicle, 39 years, and part of a US army tattoo that was hacked off his forearm without anaesthetic.
He credited Hitomi Soga with saving his life. Without question, she was the reason he died a free man.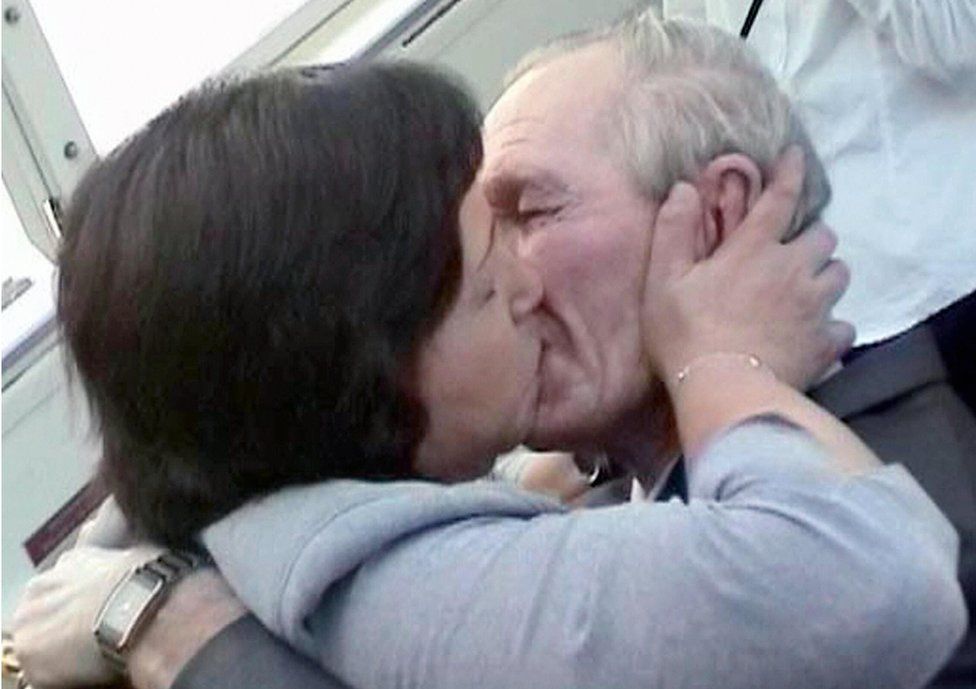 Who did the other defectors marry?
Anocha Panjoy, a young Thai woman, was given to Larry Abshier by the North Korean authorities in 1978. She had been working in a bathhouse in Macau when she vanished. They had no children, and Anocha was widowed when a heart attack killed Abshier at 40. According to Jenkins, her neighbour at the time, she was taken away and re-married by the regime – to a German who worked as a Korean spy abroad.
Siham Shraiteh, from Lebanon, had three sons with Jerry Parrish. By Jenkins' account, she was taken from a secretarial school in Beirut with three other women. When their parents negotiated their return in 1979, Siham was found to be pregnant. She returned to North Korea to deliver her baby, and never left again.
For James Dresnok, the forced marriage would be his second. His young American wife had divorced him in 1963, the year after he defected. For him, the regime lined up a Romanian woman, Doina Bumbea, who gave him two sons. Jenkins wrote that she was abducted while living in Italy as an arts student. After her death, reportedly from lung cancer in 1997, Dresnok wed the daughter of a Togolese diplomat and a North Korean woman, and had a third son.
All three of Dresnok's children, and his third wife, featured in a 2006 British documentary film about him, Crossing the Line. Siham Shraiteh appeared too, insisting that she was never kidnapped and had stayed in North Korea with her children by choice. It is not clear if she was speaking under duress, but criticism of the Kim regime would certainly be dangerous for a foreigner.
Dresnok, the last known US soldier living in North Korea, died of a stroke aged 74 in late 2016. "I have never regretted coming to the Democratic People's Republic of Korea", he declared in Crossing the Line. "I wouldn't trade it for nothing."
Charles Jenkins was the only one of the four 1960s defectors who set foot outside North Korea again.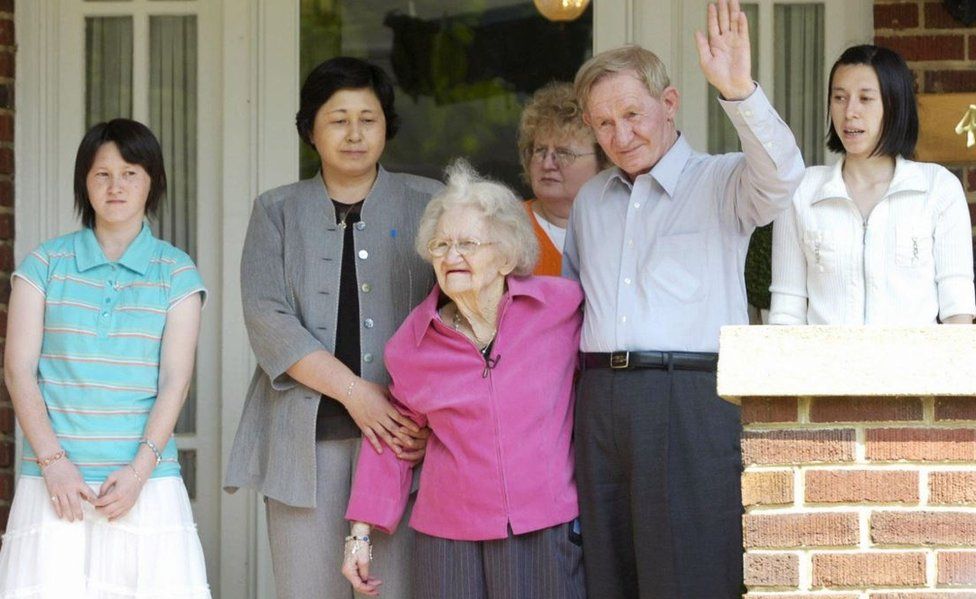 James Joseph Dresnok – Wikipedia