Какой бы сексистской ни была эта реклама в своё время, она была успешной только благодаря одному: потребителю. Когда кто-то покупался на рекламный ход, это означало успех, а успех означал выпуск новых подобных объявлений. Конечно, даже в те времена люди жаловались. Но несколько писем с резкими словами, отправленных по почте в соответствующую компанию, можно было легко проигнорировать.
Но сейчас, когда Twitter и Facebook у всех под рукой? Все, начиная от глупого шовинистического подтекста и заканчивая незначительными опечатками, регулярно осуждается на публичных форумах – как в лучшую, так и в худшую сторону. Если бы эти намеренно несносные и сексистские старинные объявления были опубликованы сегодня, мы представляем, что реакция социальных сетей была бы просто зашкаливающей. А что думаете вы?
======
"Покажи ей, что такое мужской мир" (1951)
Галстуки Van Heusen Man's World: "Только для мужчин! … совершенно новые, говорящие по-мужски, преисполненные мощи узоры скажут ей – это мир мужчины. И она будет счастлива от этого".
---
"Хорошо, что он сохранил голову" (1960)
"Проявление нежности – это прекрасно… но хватит уже! Она не могла жить без касаний к нему. Все эти объятия, поглаживания по щеке. Щипки украдкой. Это может довести мужчину до бюро защиты прав человека. "Все началось, когда он надел свою первую пару брюк от мистера Легга, сшитых на заказ Томсоном. Но он держал себя в руках; теперь все под контролем.
"Почему бы вам не попробовать пару "Mr Legg's"… и приготовиться копать".
"Обдай дымом её лицо, и она пойдет за тобой куда угодно".
"Поразите ее терпким Типале Шерри. Или насыщенным, виноградным "Типале Бургундия". Или сочный Типале Блуберри. Дикий восторг!
"Типале". Он новый. Другой. Восхитительный. Восхитительный вкус и аромат. Затяжка, выдох в ее сторону, и она последует за вами, куда угодно. О да, вы получаете удовольствие от курения, даже если не затягиваетесь".
---
"Окружите Рози. Или Кэрол. Или Элеонору и т.д. Это весело… Но только если вы в штанах "Брумстик". Но если не хотите играть по нашим правилам – снимайте штаны и катитесь домой.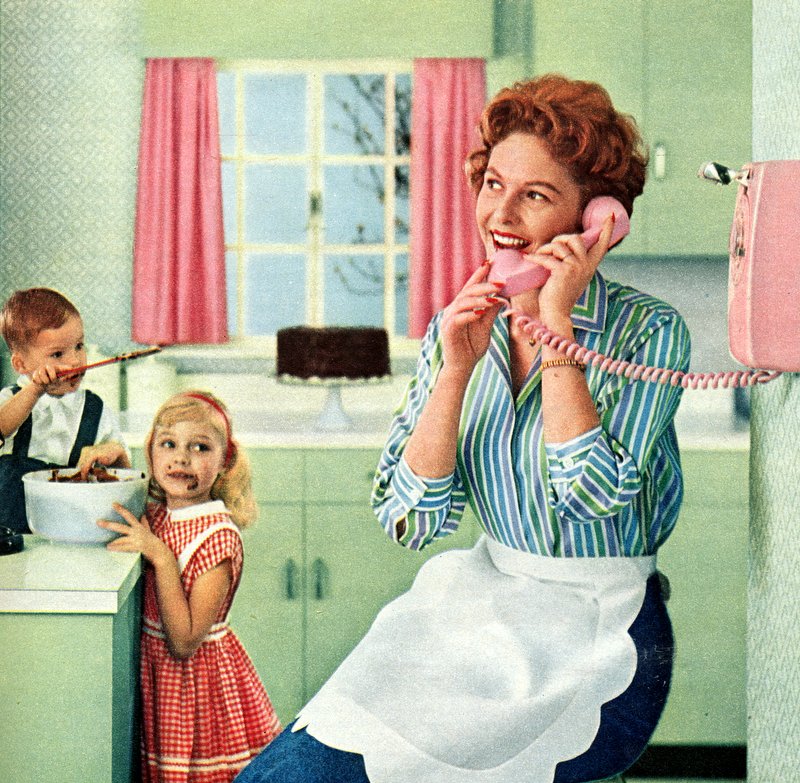 ---
Сигара пробуждает в вас пещерного человека (1959)
"В курении сигары есть ощущение мужской силы".
---
"Хорошо, когда в доме есть девушка" (1960)
"Она была тигрицей, но наш герой уложил её без выстрела. Стоило ей лишь взглянуть на брюки от мистера Легга и она стала готова к тому, что он будет попирать её ногами. Этот благородный стиль укрощает сердце дикарки сердце!
"Если вы хотите иметь свой собственный оригинальный коврик, купите эти мужские брюки".
---
"Вы хотите сказать, что бутылку с кетчупом может открыть даже женщина?".
Alcoa Aluminum выпустил этот рекламный перл в 1953 году. 
Даже женщина могла открыть стеклянную бутылку… "Легко – без ножа, открывалки и даже без мужа! Достаточно изящного захвата, легкого поворота двумя пальцами – и соус готов к использованию".
---
"Чем больше жена работает, тем симпатичнее она выглядит!" (1939)
Бодрящие витамины: "Боже, дорогая, ты, кажется, не устаешь готовить, убирать и вытирать пыль – а я c ног валюсь в конце дня. В чём секрет?" Витамины, дорогой. Никогда не забываю их принять.
---
Как удержать мужа? С помошью двух слов: Взбитые сливки.
---
Средство для чистки обуви.
Ребята из Griffin Microsheen решили использовать девушек в стиле пинап для рекламы своего средства для чистки обуви от пятен. Это всего лишь четыре рекламы, которые они выпустили в 50-х годах, и пара из них, которые мы не включили сюда, имеют скорее рейтинг R, чем PG.
Заголовки, по часовой стрелке слева вверху: Самый аккуратный "фокус или угощение" – Всеамериканский фаворит – Просто смотрите, как блестит Microsheen – Исключительно в вашем вкусе.
---
"Поздравляю, дорогая, но…" (1960-е)
"… чем именно занимается помощник вице-президента?".
Вывод: Если вы совершенно не разбираетесь в карьере своего супруга, приготовьте тартинки с пудингом.
---
"Because innocence is sexier than you think" (1975)
No no no no no no no no no no no no no no no no no no no no no no no no no no no no no no no no nonononononoooooo, Love's Baby Soft. No.
Love's Baby Soft: Because innocence is sexier than you think? Eww. ('70s & '80s)
---
"Want him to be more of a man? Try being more of a woman"
This Emeraude perfume ad from 1974 also explained what the Coty fragrance company thought that being more of a man — and more of a woman — meant.
"Being more of a man used to mean having 16-inch biceps, or driving faster than everyone else. Today, it means being strong enough to be gentle."
"Being more of a woman used to mean acting hard to get. Today, it means not acting at all."
BTW, they still see this stuff today. See it here.
---
"Are you the right kind of woman for it?" (1970s)
"Can you light his fire swiveling to a calypso beat while slugging champagne from a bottle and wearing nothing but one Edwardian rose behind your ear?"
---
Don't get the freshest coffee? You might be in for a spanking
"If your husband ever finds out you're not 'store-testing' for fresher coffee…" starts this ad that ran in LIFE magazine back in August 1952.
---
"Husbands beat wives…"
"… in cake baking contests from coast to coast."
Oh, yes — we see what you did there. That's exactly the kind of message that makes people want to buy cake mix.
---
"A girl-size hand needs a girl-size pen"
"Girls — and girl-size hands — delight in the new Compact Jotter. It's smaller, daintier, a joy to write with," this vintage ad said in 1965.
---
"Wanted: Husbands for these girls"
As explained by the kind folks from Lux detergent back in the 1940s: "Dorothy, 25, lives at home. She has a job, yet she can't get ahead. She dresses well, talks well, dances well — yet she is seldom asked out — and never a second time. She thinks she is misunderstood. She blames others when really her own carelessness is to blame."
MORE: 21 bad vintage product names you wouldn't see today
---
"Made for a woman's extra feelings"
Secret antiperspirant put out this bridal beauty back in 1965.
---
"Secretaries can turn you on… anytime!"
That's one way to spice up a vintage ad for something incredibly dull — a Stenocord dictation machine from 1967.
---
"How to cook for a man" (1971)
"One thing's sure. 365 days a year, your man is hungry. Yet he's tired of hamburgers. And you're just plain tired."
---
"There's another woman waiting for every man" (1950s)
"No wife wants her husband to carry the memory of her morning breath to work with him. The attractive women he meets during the day don't have it."
---
"Is it always illegal to kill a woman?"
Here's a creepy vintage Pitney Bowes ad from the 1950s/1960s. The backstory they include is a bonus.
For six months I bend the ears of the home office to get a postage meter. I win… Then the only good, fast, dependable, honest-to-Gregg stenographer I got, this redhead Morissey — balks at a postage meter!
"I have no mechanical aptitude. Machines mix me up, kind of," she says. As if we asked her to fly a P-80. I almost blow my top.
This postage meter, I explain, is modern, more efficient, a time saver… No more adhesive stamps. No stamp box, and who's got the key? No running out of the stamps you need. No scrounging. No stamp sticking. Just set the lever for any kind of stamp you want, for any kind of mail, and the meter prints the stamp right on the envelope with a dated postmarked — and it seals the flap at the same time. Faster than mailing by hand.
Prints stamps on tape for parcel post. Will handle anything we have to mail out of this office. Even keeps its own records! And metered mail doesn't have to be postmarked and canceled in the post office, gets goings earlier. It is practically heaven's gift to the working girl… and so on. But with the Morrissey, no soap.
I try diplomacy. "Miss Morrissey, I want you to personally to try it for two weeks. If you don't like it then — back it goes to the factory! I depend on your judgment implicitly. Okay?"… She acts like an early Christian about to be lunch for a lion, but gives in.
So help me — two weeks later she has a big pink bow on the handle of the postage meter – like it was an orchid or something, I give it the gape. "Kinda cute, ain't it," says Miss Morissey. "But a very efficient machine, Mr. Jones. Now the mail is out early enough so I get to the girls' room in time to hear all the dirt"… I wonder is it always illegal to kill a woman!
We are always learning some new advantages of the postage meter. If you'd like to learn what one could do for your office, call the nearest Pitney-Bowes office…
---
"What a catch!" (1966)
This vintage ad for Martini and Rossi uses a picture of a woman in a cage to promote vermouth. Because of course.
---
"Liberation can be tough on a woman," so… Vivarin (1973)
"Help for the modern woman" in the form of a caffeine tablet.
---
Madam! Suppose you traded jobs with your husband? (1956)
The sexism didn't just go one way. In fact, making dad look incompetent was not an uncommon theme.
---
"Look – I'm a mother!"
Ah – a wonderful look at gender roles from the 1940s.
ALSO SEE How to be a perfect fifties housewife: Laundry edition
---
"Keep her where she belongs…"
A somewhat confusing sexist vintage ad from the seventies, promoting some fancy two-tone men's shoes.
---
"Get off your knees, girls" (1970)
"Up off your knees, girls. Shinyl Vinyl, the no-wax floor, is here." (About Congoleum flooring)
---
"This nice little blonde from Barcelona will romance you all the way to Spain."
ALSO SEE Pretty, thin, young and single? Check out these sexist stewardess job requirements of the '50s & '60s
---
Sexist vintage ads: "I'm Jo. Fly me." (1970s)
Jo (and another stewardess named Cheryl) were part of a National Airlines ad that even sparked outrage at the time.
---
Pilots love pretty noses (1944)
---
"Where there's a man… there's a Marlboro"
This vintage magazine advertisement from 1970 also included the poetry of this line: "The cigarette designed for men that women like."
---
"Would you prefer a shaggy dog or an attractive woman?"
Eva Gabor for Masterpiece Tobacco in 1965 poses a question you don't really hear very often.
---
"Your guy – your number 1 reason for Midol" (1970s)
"Be the you he likes." PS: They mean PMS, girls! Subtle, right?
---
"I used to suffer from menstrual cramps" (1967)
"Thanks to Femicin, she now acts like the woman I married — every day of the month."
---
"My wife Jean is happy, pretty & pregnant" (1972)
There were so many bad choices made in this ad — doubly so, given that it came out during the "women's lib" era.
---
It's a man's work (1966)
"Your wife worked as a single girl and enjoyed it. But it'd be different if she had to support the family. She'd be doing a different kind of work. A man's work."
ALSO SEE Talking behind her back: 11 really mean vintage ads that could give anyone a complex
---
Sexist vintage ads: "I want a man!" (1940s-1950s)
---
"I've got myself a Marine!" (1944)
"Quick as a bunny I changed to gentle Ivory care. Boy did it work! Not long ago, Kay brought over a couple of Marine Lieutenants. I got the good-looking one — and I do mean GOT. He raves about my slick, smoother complexion. Wants to announce our engagement when you get back! Hurry!"
---
You won him – now you must keep him (1935)
"How to sell your husband a mink coat" (1964)
---
That's… not exactly typical dental hygenist attire
What's it have to do with cigars? Well, nothing. Sometimes a woman who forgot to put on a shirt is just a woman who forgot to put on a shirt."Should a gentleman offer a Tiparillo to a dental hygienist?" (BTW, if she takes it, "she's a bit of a kook.")
---
Sexist vintage ads: "6 ways to turn her on"
Here's a very zeitgeisty way to pitch Clairol hairstyling tools and a makeup mirror (1970s)
---
Forbidden fruits: "I'm not as innocent as I seem" (1980)
Maybelline Kissing Slicks going for the teen market — and probably the pre-teen market, too.
---
Body image: Oh, how times change
"Men wouldn't look at me when I was skinny" (1930s-1940s)
---
"A wife can blame herself if she loses love by getting 'middle-age' skin" (1940s)
---
Want your hubby to show affection? Get booze.
"The wife most likely to be kissed… always puts beer on her shopping list!"
---
"What a kiss I got that night!"
"My husband was frantic when he came home from work. He had forgotten that this was the night the boys were coming over for poker," said this ad from May 1956.
"But I hadn't. There was plenty of cold Budweiser in the refrigerator to go along with my snacks.
"When they'd gone, he said, 'Even the ones who lost had a good time… thanks to the good things to eat, the Budweiser and your good memory.'
"(Actually, Budweiser reminded me, when I saw it at the store. When I see Budweiser, I think of hospitality… letting people know you think enough of them to serve the best.)
"Where There's Life… There's Bud!"
---
"Any woman knows what to expect when she gives him the best" (1953)
---
"Ваш Stratolounger может доставить вашей жене некоторые неудобства" (1967). "Вы много работали, чтобы ваша жена могла жить безбедно. А она подарила вам шикарную гостиную, в которой вы даже не можете присесть".
---
Сексистские винтажные объявления: "Думайте о ней как о своей матери".
"Она хочет только лучшего для вас. Прохладный напиток. Вкусный ужин. Мягкую подушку и теплое одеяло", – гласила реклама авиакомпании American Airlines 1968 года. "Это не просто материнский инстинкт. Это результат самого длительного обучения стюардесс в отрасли.
На эту тему больше:
Bad vintage Christmas ads: 20 retro holiday sales pitches that you'd never see today
Women: Do you have the ideal figure? Here's how to tell. (1950)
Remember tasty vintage Maybelline Kissing Potion, Kissing Glosses & Kissing Slicks from the '80s?
And now for a little ad awkwardness from the fifties: 20 glamorous housewives who REALLY loved their toilet paper
---